flatcoats
Although his tail never stops wagging, the Flatcoated Retriever is suited for hard work. Originally bred to flush and retrieve both upland game and waterfowl, he transfers his determination, desire and verve on the hunting field to everyday life, enthusiastically participating in family activities and in the show, obedience and agility rings.
The Flatcoated Retriever is a versatile family companion hunting retriever with a happy and active demeanor, intelligent expression, and clean lines. The Flatcoat has been traditionally described as showing "power without lumber and raciness without weediness."
The distinctive and most important features of the Flatcoat are the silhouette (both moving and standing), smooth effortless movement, head type, coat and character. In silhouette the Flatcoat has a long, strong, clean, "one piece" head, which is unique to the breed. Free from exaggeration of stop or cheek, the head is set well into a moderately long neck which flows smoothly into well laid back shoulders. A level topline combined with a deep, long rib cage tapering to a moderate tuck-up create the impression of a blunted triangle. The brisket is well developed and the forechest forms a prominent prow. This utilitarian retriever is well balanced, strong, but elegant; never cobby, short legged or rangy. The coat is thick and flat lying, and the legs and tail are well feathered. A proud carriage, responsive attitude, waving tail and overall look of functional strength, quality, style and symmetry complete the picture of the typical Flatcoat.

Link to the official breed standard on the Website of the "German Retriever Club" e.V. ( DRC )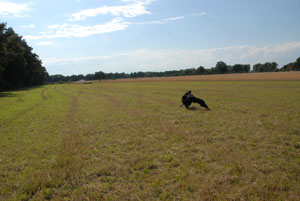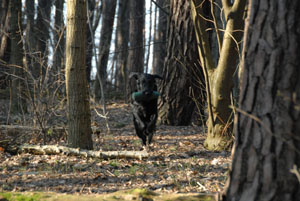 Literature / Information about Flatcoated Retriever & training:
Flatcoated Retriever Das große Rassehandbuch - Rosemarie Wild / Yvonne Jaussi
Retrieverschule für Welpen - Norma Zvolsky
Die drei Charaktere (als Buch & DVD) - Anke Bogaerts
Handbuch der Hundezucht - Inge Hansen
B.A.R.F. (& B.A.R.F. Junior) artgerechte Rohernährung für Hunde - B. Messika / S. Schäfer