about us
We live in a small village near Hanover in northern Germany. We have always had dogs and when our white shepherd and my little Teckel-mix both passed away in 2007, aged 10 and 16 years, we quickly realized that living without dogs isn't what we are made for. Of course we were really sad but soon we have started looking around for a new dog - and I picked out the Flatcoated Retriever. I have been impressed by the beauty and the temperament of these dogs so we started searching for a breeder and found one not far away from our home. And as destiny decided there were 12 puppies born and one female puppy was still there to have.
In november 2007 Stoneyard's dark velvet First Sense "Julie" arrived at our house - soon I started to train her and quickly working with dummies got our favourite activity. In april 2008 there were new puppies born at our breeders kennel and I only wanted to have a look at them... of course I fell in love and two month later my little princess "April" (Ch Steelriver Could it be Magic x Peachdreams Exotic Spice) entered the house! Julie & April are a "dream-team" - they fit perfectly and we are so happy to have them with us!
Thanx to the breeder "Stoneyard's dark velvet" for letting us have those two lovely pups!

We have done a lot of training during the last years and learned a lot. Both dogs participated in different working / hunting tests and were shown at Shows all around Germany. Julie & April have really nice health results, were shown with excellent results and work with passion, so we decided to apply for the breeding permission which both of them got in 2010.

As a name for my Kennel I have chosen "Summer Sensation's", because it will always remember us to our first Flatcoated Girls:


Stoneyard's dark velvet First Sense
&
Stoneyard's dark velvet Gaelic Summer
=
Summer Sensation's
Summer 2011 was full of wonderful events for us: April completed her Club Champion title - I'm very proud of my little Show-girl and Julie gave birth to our A-litter! We are interested in seeing how the puppies will develop, I am happy to have one bitch in co-ownership and we are already looking forward to everything that follows! In summer 2012 April completed her second Champion title after winning her class at the British dog festival!
All results, judge's reports, news & pictures are always updated on this page - have fun!
February 2013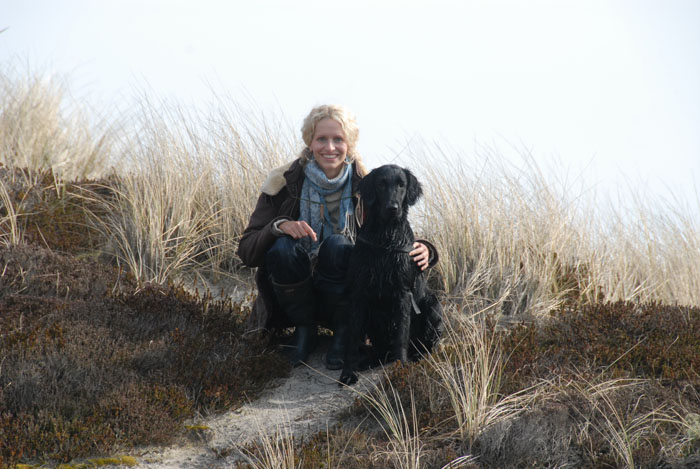 2009 Sylt